"Remember that time on the Camino when . . .?"
Donna and I start many conversations this way now.

When I learned that "Rain" was the theme for TheMoth.org's Los Angeles open mike StorySLAM event, Donna and I bought tickets. Once there, I put my name in the hat and was one of 10 lucky storytellers selected to go on stage and tell a 5 minute story (plus a 1 minute grace period) based on that theme.
The Moth stories must be true, told live, without notes. Three teams of three audience members judge the storyteller's telling of the tale, based on the teller's sticking to the five-minute time frame, sticking to the theme and having a story that has a conflict and a resolution. Winners of StorySLAMs advance to a GrandSLAM event, with a different theme and more time to tell their stories. I came in second by a fraction of a percentage point.

No big deal. Not why I was there.

You know from reading my blahg how much I like to write about the Camino de Santiago. The Moth gave me a chance to talk about it. From behind a microphone! (Deja vous all over again from my years of professional speaking.)
I'd forgotten how rewarding it is to make people laugh. Not to mention make Donna choke up just a tad at the memory.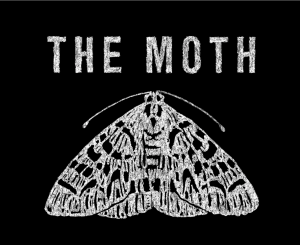 Click the image of The Moth logo to watch the 6 minute video.
Buen Camino!
P.S. If you love listening to or telling stories, I recommend The Moth Radio Hour Podcast, available wherever you listen to podcasts.