So much to tell, so little bandwidth to do so.
Day 3 was walking into Pamplona. Yes! THAT Pamplona ala the running of the bulls. We just missed them a month ago. Walking into a metropolis is not the most fun, so by the time we arrived at our lodging, we were a bit snarly ourselves.
A Pilgrim's meal was not included that night, so we had to hunt and gather at nearby tapas bars. Poor us, right? More on that later, maybe.
Day 4 Out of Pamplona
We were excited for this day because it includes a climb up Alto del Perdon, the Hill of Forgiveness.  At the top is a sculpture depicting a number of Pilgrims either on foot or on horseback as they make their way along the Camino to Santiago.
Look closely and you might see two people photo bombing everyone else's picture.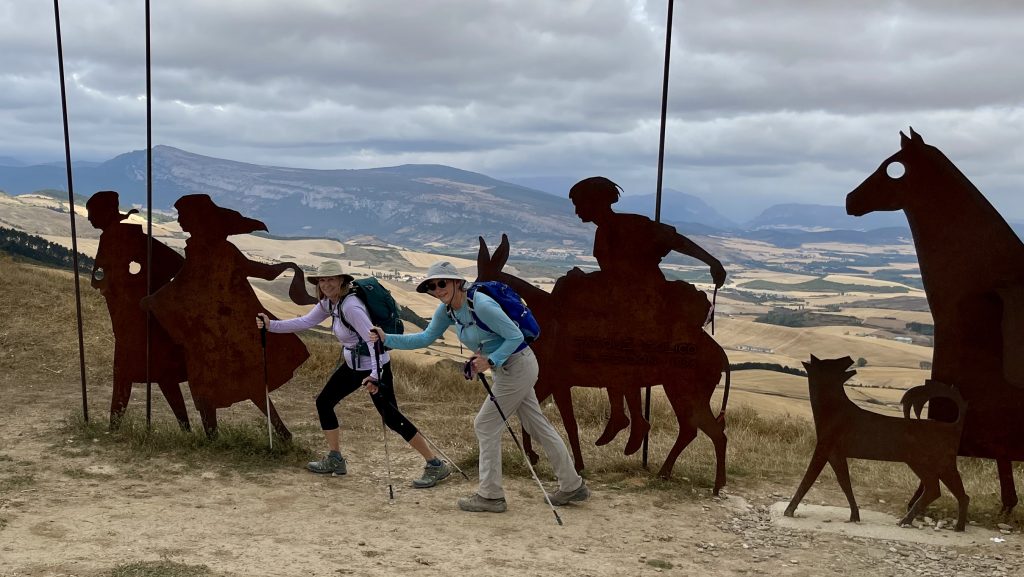 Problem is, we took all sorts of amazing photos before and after the one above, but the WiFi at our lodging "down the mountain" in Puente de Reina has the
s l o w e s t
bandwidth EVER. The above is the only photo I could upload all night.
So, trust that we are safe, sound and strong at Day 4. We'll get to the next post when we can.
Manana en la manana,
Terri and Donna