Here's our little code.

You chat with someone along the way, and you don't learn their name, so you give them a label. So there's Miami Man. Or Red Shirt Guy. New Zealand Gals. If we could keep up with the Boys in the Band, we would have. But they are three student-age looking guys carrying fully loaded backpacks and each one has what looks like a violin case strapped on, too.

Once you encounter someone again, maybe then you chat enough to ask the person's name. Three years ago we forgot so many names that we promised each other that we would take pictures and capture names, too, this time around.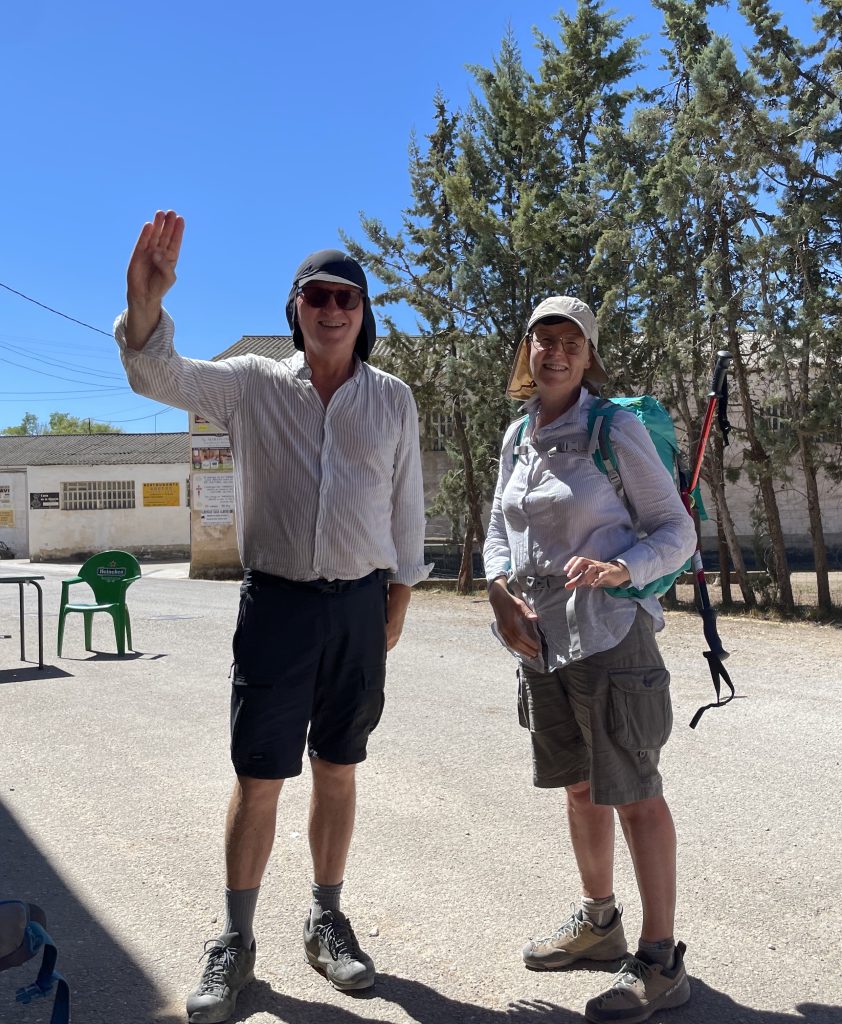 We said goodby to Bernard and Mrs. Bernard from France in Los Arcos. They were "only" walking as far as Logrono because the had to bet home in time for their daughter's wedding.
Monday Night Made Merrier.
Monday night our lodging did not have a kitchen for serving dinner, so we had a voucher to a nearby place. Donna and I sat down early, which in Spain means 7:45 p.m.
A few more tables started to fill and we heard English being spoken at each one. New Zealand Gals were at one table (Sue and Michelle) and Aussie Couple were at another (Mark and Brooke). By the end of the evening we asked Man Bun the waiter to take our picture.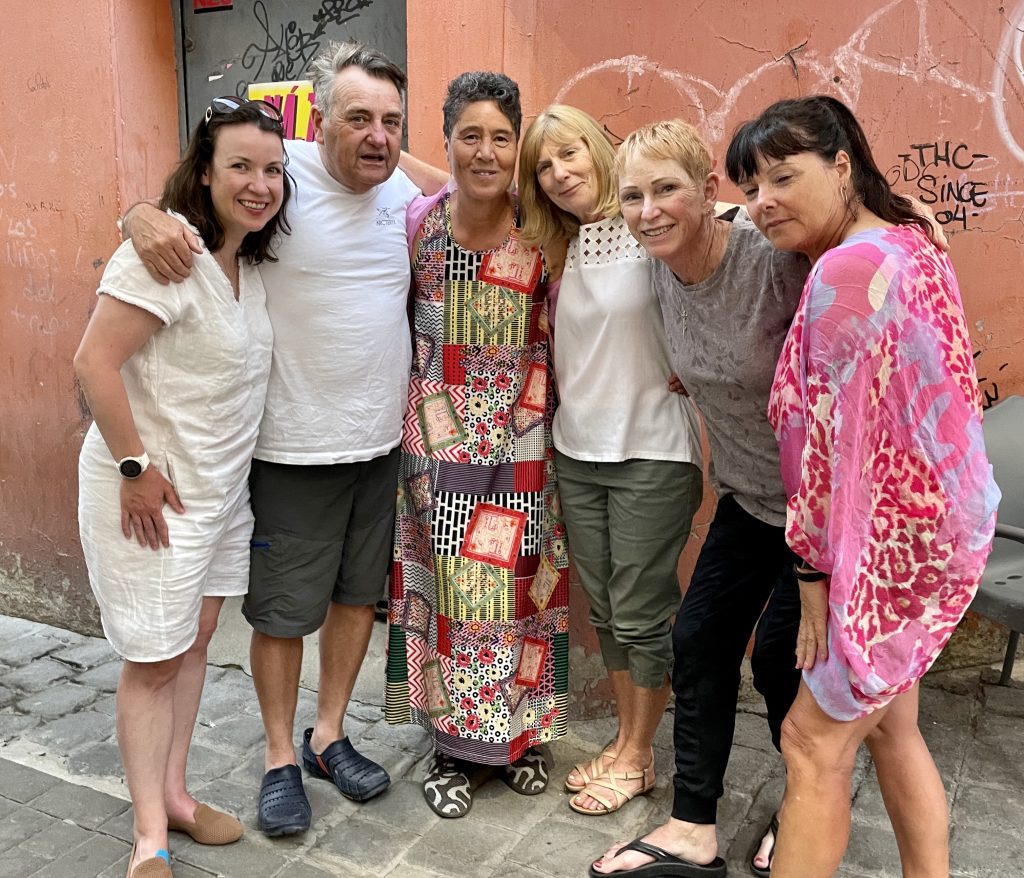 (L to R): Brooke and Mark (Melbourne), Sue (NZ), Donna, Me, Michelle (NZ).
Our room Monday night also got a nickname the moment we opened the door. Red Room. Not R E D R U M, I clarified to Donna (and for the benefit of any Stephen King fans.)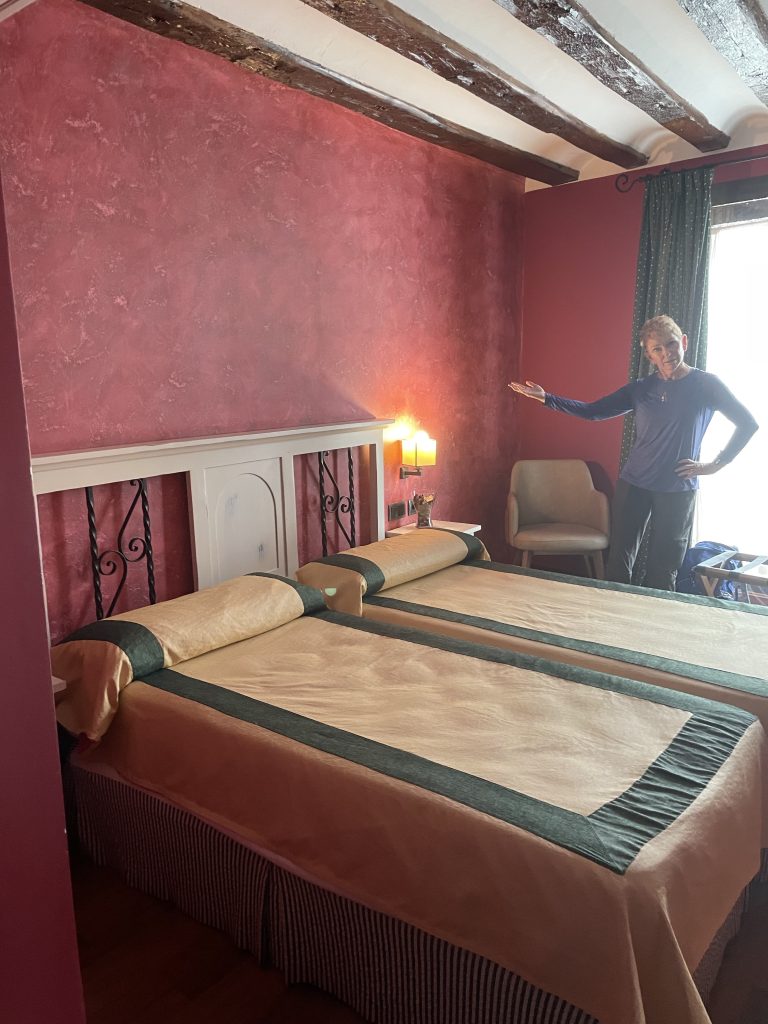 How hot was it Monday?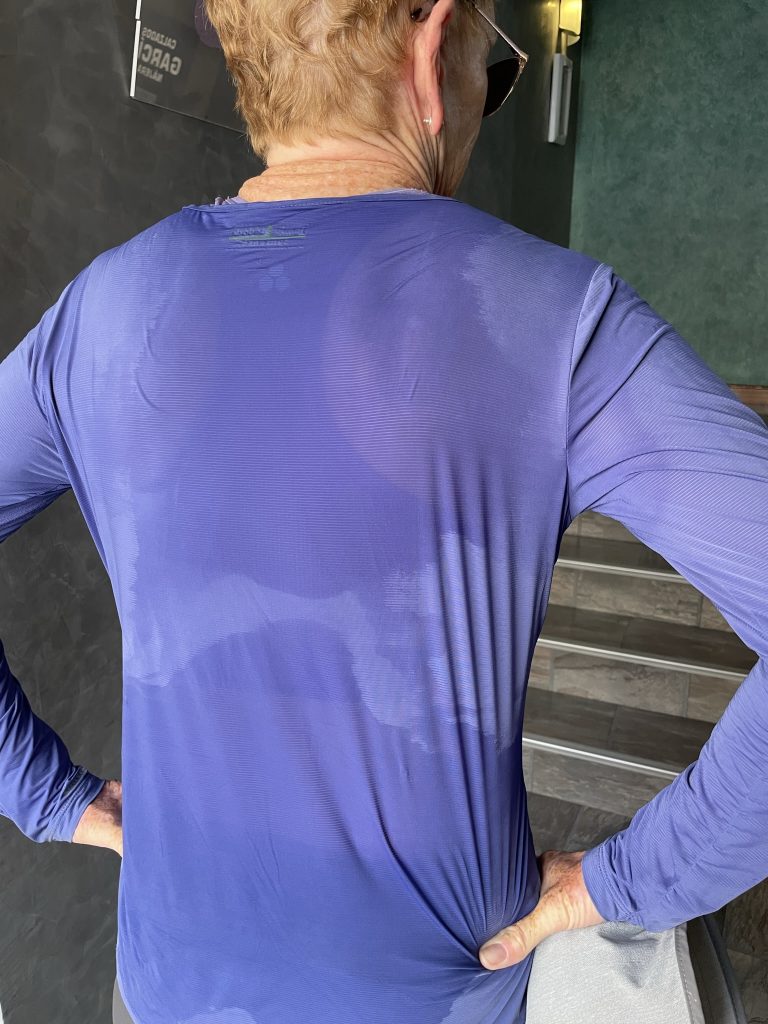 Very. Heat rash is an issue we hadn't anticipated, but one trip to the Farmacia and we had relief cream.
Tuesday Morning Delight. 
Turns out Sue and Michelle were staying our hotel. We saw them at breakfast and the introduced us to Mark and Margaret (M & M) from New South Wales. 
We know that Sue and Michelle are staying in the same town we are Tuesday night, so we are hoping we see them again and perhaps can eat together. 
As for Tuesday's walk, I took a couple of videos to show the contrast. I'll do a separate post and see if I can get them to upload. If not, I may have to resort to Facebook. (Sorry, Mom. I'll email them directly to you if that happens.)