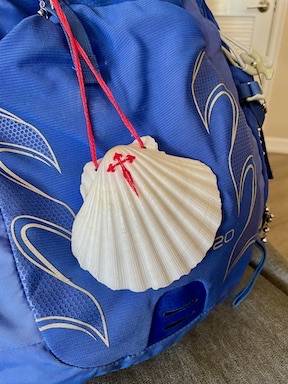 The symbol of the Camino is the scallop shell. It is rare to see someone walking without a big one hanging outside the backpack. Donna and I bought ours Day 2 of our first Camino, the Portuguese Coastal Route in Spring of 2017. We carried them again on the 300 miles of the French Way from Burgos in 2019.
Donna framed hers and hung it on her living room wall, because, well, who'd have thought we'd be walking the Camino a third time? Let alone the whole 500 miles. She said she's "unframing," bringing it out of retirement one more time.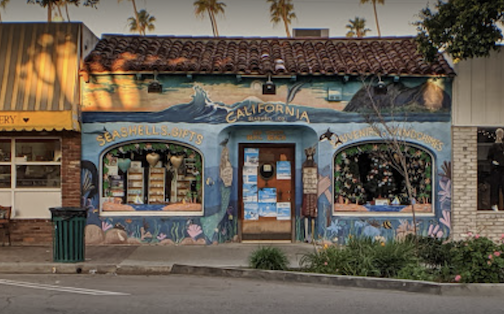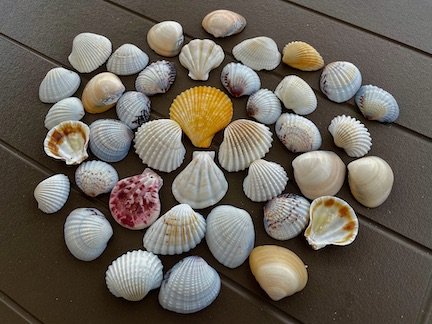 And here's the plan for them:
• The "theme" of our Camino is gratitude.
• On the inside of each shell, I will write the name of something or someone I am grateful for. So will Donna, independently, on her shells.
• Every morning we each pull a shell from our respective collections and carry that shell until we find a place to leave it. Sometimes there's a connection. Like last time, when I left Laurie Guest's shell in a corn field. (Read her bio, and you'll get it.) Sometimes there's no connection; it just looks like a nice place for a shell.
I also plan on leaving a few shells blank…for the Camino angel(s) I'm sure to meet along The Way.
And the yellow one in the middle? That one's for me. I don't know where I'll leave it, but I'll know it when I get there.
Stay tuned!
(Which is another way of saying, subscribe up there on the Home page. Whenever I post, you'll get an email telling you I did.)