Castrojeriz to Fromista to Carrion de Los Condes
Monday/Tuesday 8/29 and 30
We knew what the morning would bring first thing—a steep climb that felt like it went on f o r e v e r three years ago. We had to stop three or four times back then. In fact, it was on that part of the trail that Donna "invented" chanting something in a rhythmic cadence to get ourselves to the top. More like a prayer, though. Not ala the Marine Corp.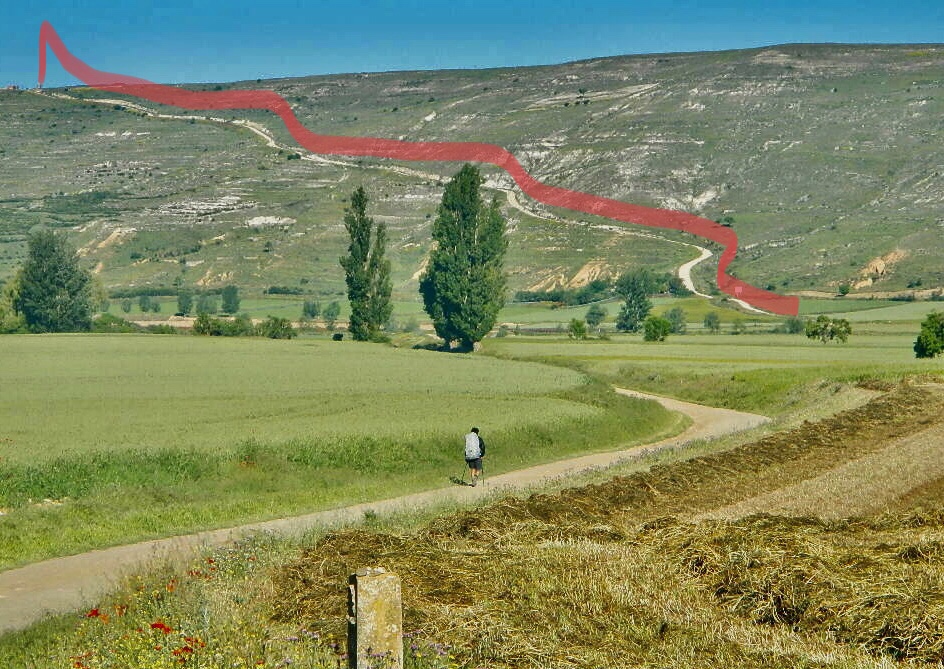 Below is the sign that tells us peregrinos what we're in for.
Zoom in on the triangles and you'll read that it's 1050 meter elevation gain. That's 3,444 feet.
Because setting and keeping your own pace is critical on segments like this, Donna and I agreed, "See you at the top," and set off.
Surprisingly (to me, anyway), we stayed within a car length of each other and only stopped once to catch our collective breaths.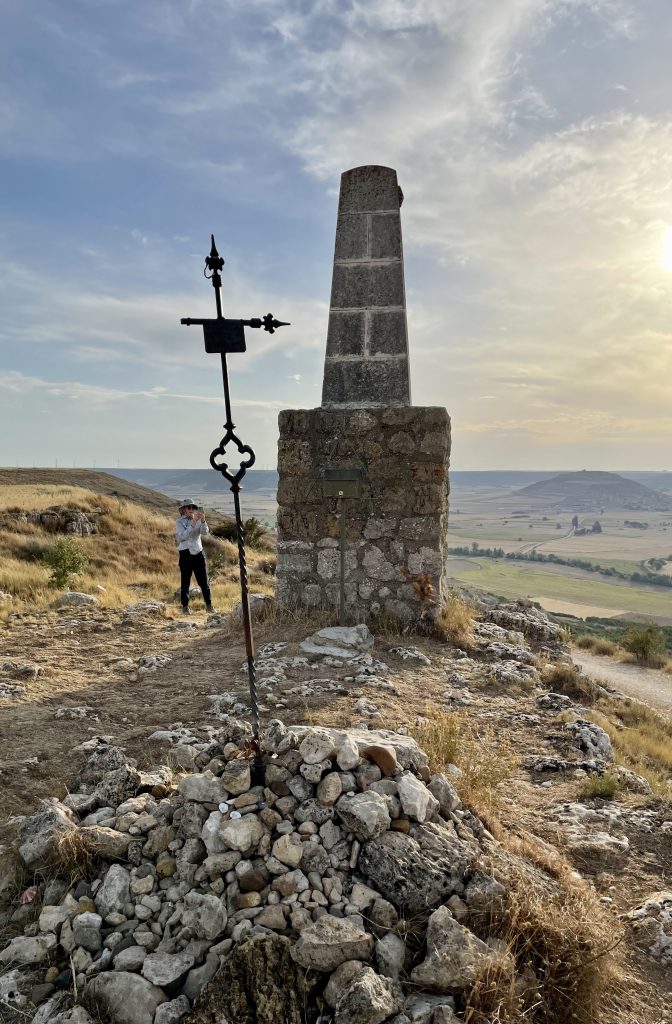 We left several of the "grateful for" shells at the very top.It's probably one of those "you had to be there" moments, because it's difficult to capture the dramatic elevation gain with an iPhone.
Donna said, "It's as close to heaven as we've been so far."
The "Aha!" Revelation
As we walked around at the top, we high fived each other, and agreed that "it wasn't as bad as I/we remembered it."
And then we did some more math and realized that three years ago, this climb occurred on Day 3 of our Camino because we started that one in Burgos. This time, it was Day 15.
We. Are. Stronger.
Downhill From There
What goes up must come down, and that applies to the Meseta. Click the link below to hear and see what lay ahead of us down that hill.
The Other View from the Top (The Meseta)
The Rain in Spain Fell on Our Plain
Remember the 47% chance of rain I mentioned in the last post? Dead on. We made it up the hill and quite far in cool cloud cover, for which were most grateful.
But we didn't out run the rain.
Another friend of mine told me once that "there's no such thing as bad weather. Not if you have the right clothing."
We did. Rain coats, rain pants and backpack covers got us through. And then, poof. The rain stopped and we were in sunny skies.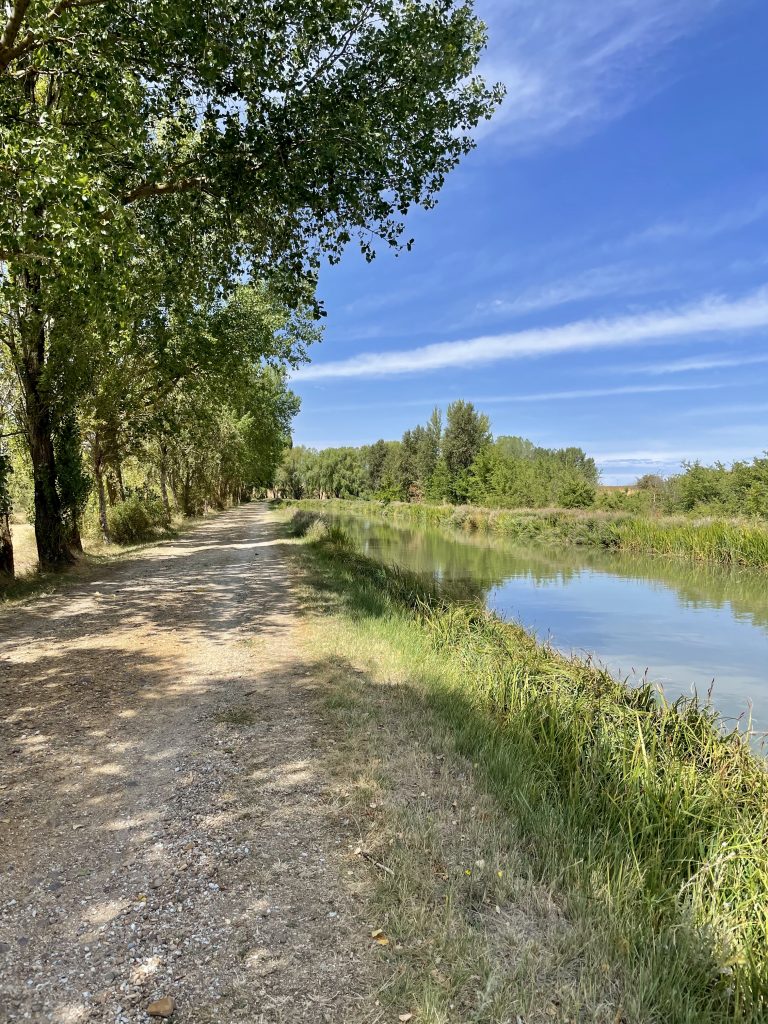 The last 3K of our path was delightful with shade trees on the left and a canal on the right.
Short Day Tuesday, With the Last 5K Not So Enjoyable
We had 20K to walk Tuesday, and most of it was along side a highway. No shade. Crops on all sides. And no shade.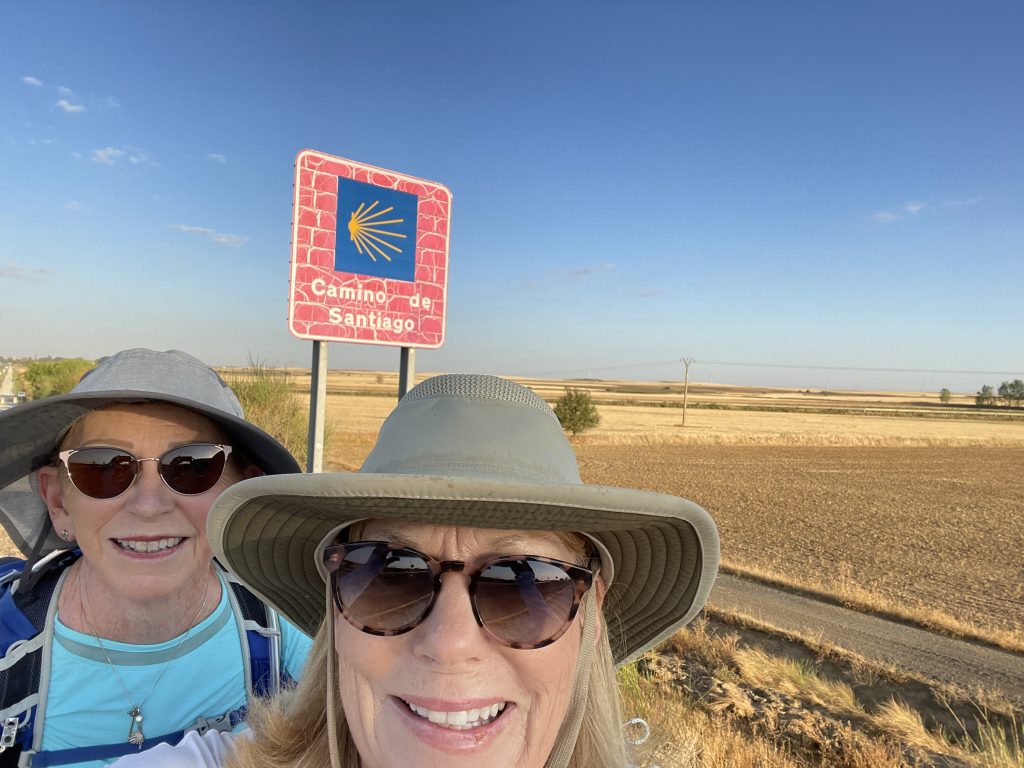 We were so happy when Yonicka (yawn-i-kah) caught up with us. We met her Day 1 and saw her again in the rain on Monday. She walked with us a short way and told us about a fork in the Camino that would take us a little longer, but it followed a stream and had plenty of shade trees.
Our HERO!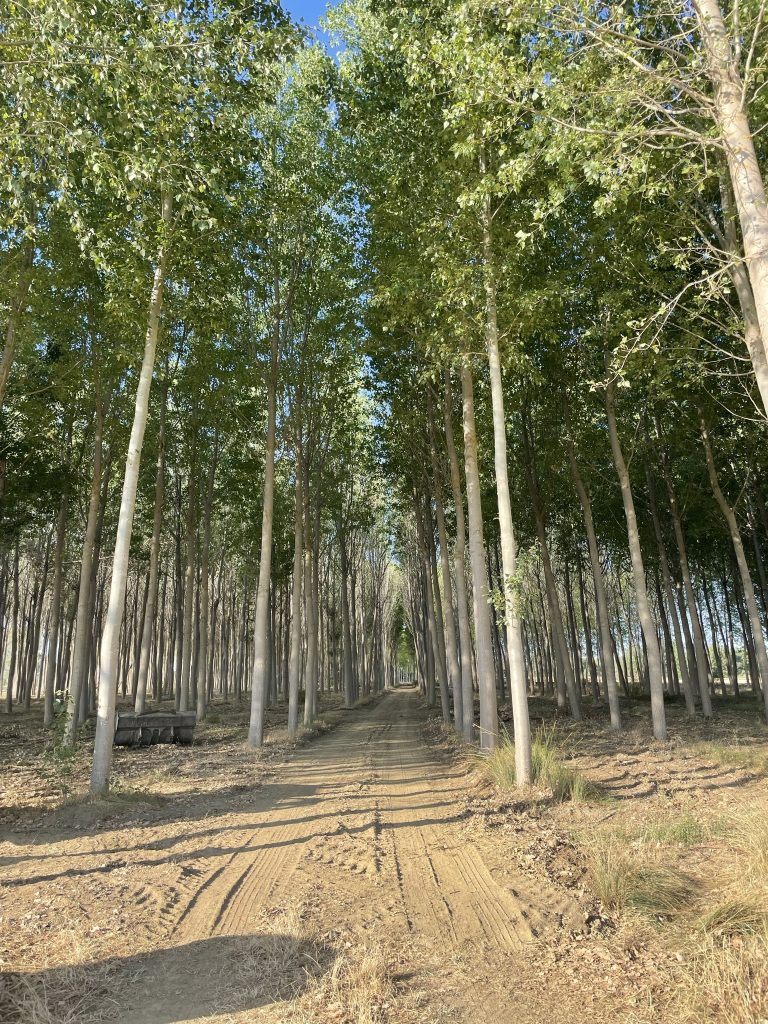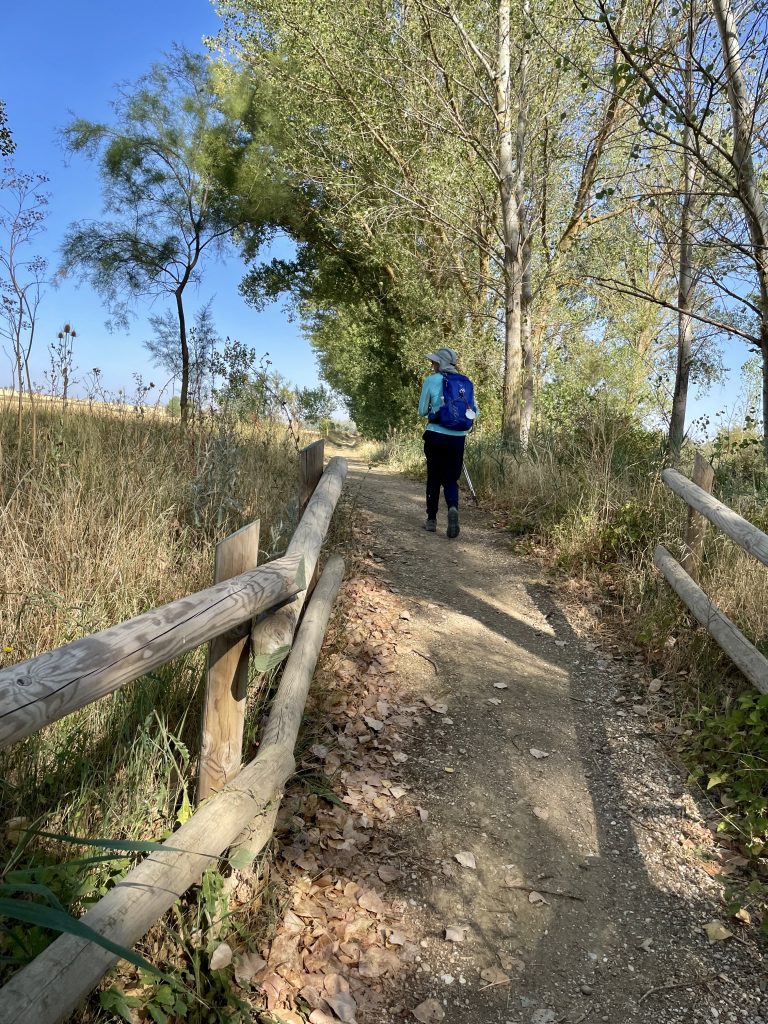 The last 5K were back on the highway. Did I mention that there was no shade?
The mental game (for me, anyway) was, "OK, this is like walking to the gym in Long Beach, and doing a workout. I can do that. Except I don't sweat this much walking to the gym. OK, so it's more like a HIIT class. (HIgh Intensity Interval Training). Except that it's only a 50-minute class and air conditioned. OK. I used to do 90 minute Bikram yoga in 105-degree room for 90 minutes. Yep. That what this is. Except I have long sleeves, long pants, a hat and 10-pound pack on my back. Other than that, pretty much the same."
And here's how we celebrated after getting to our lodging. (A monastery converted into a hotel.) We crossed a river on the way to the monastery and saw families enjoying a swim in the river.
We checked in to our room, donned bathing suits and waded in the cold, fast running current.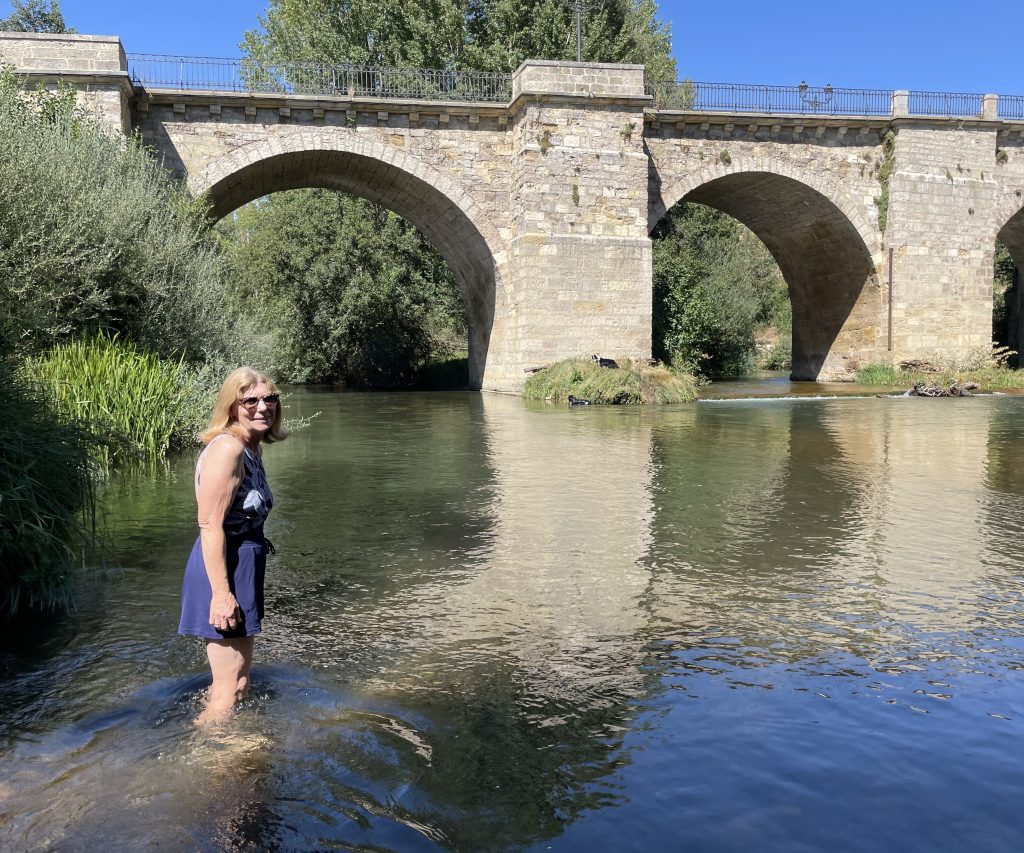 And pay no attention to my silly water tossing antics in the video below. Watch the dog in the background. (I miss my Rusty!)
I'm having trouble uploading the room photo, and it's 11 pm. Time to say buenas noche, and I'll try again on Wednesday.