We were ahead of schedule. Alarm at 6 a.m. Check. Throw on the clothes we laid out the night before, call the bellman to bring down the luggage. Check. He arrived at 6:30 a.m. and asked if we needed a taxi. Yes, please.
We checked out 6:40 a.m. and were in the cab with time to spare for the 8 a.m. train departing Madrid's Chamartin station.
At 7:10 a.m. we hop out of the cab, open the hatch, and I gasp. "Donde esta nuestra equipaje?" [Where is our luggage?]
"What luggage?" he said in Spanish. "Solo a mano." [Only by hand, referring to our large purses.]
I managed to explain in Spanish that we needed to return to the hotel for our luggage, and did he think we would still have time to return and catch the 8 a.m. train. This was not the context in which I wanted to practice my Spanish, but I was grateful for every Pimsler lesson I listened to at that moment.
"Iffy, iffy," he said in English.
Rapido, rapido I said in Spanish.
Donna called the hotel to tell them of the debacle and asked them to have the luggage waiting outside. They didn't comply, so we went inside, resigned that we would not be able to get back to the train station and asked the concierge to look at our tickets and see if he could book tickets on the afternoon train departing at 1 p.m. No. The best bet was to get back to the train station asap and beg for mercy at a ticket counter.
He called a taxi and we watched the bellman load two suitcases in the trunk of the new taxi.
"Estamos tarde por el tren," I said. [We are late for the train.]
Thanks to the Hop on Hop Off Bus tour the day before, and because we had just made the drive less than an hour prior, I noticed immediately that the first right turn the driver made was heading for the wrong train station.
"Chamartin estacion!" I said just in time for him to go around the block and head in the correct direction. Time check: 7:40 and we noted that morning drive time is as much a thing in Madrid as it is in Los Angeles. Bumper to bumper.
Attitude adjustment time. We accepted that we were going to be killing time in the train station, but at least we could walk, read, write there. We wouldn't starve. Maybe there's another, albeit circuitous, route that will get us to Burgos prior to the late afternoon arrival that the 1 p.m. departure projected. Que sera, sera.
Our second taxi driver used the taxi/bus only lanes to race through city central and took a different route than the first driver. Arrival time: 8:02 a.m.
We ran as best one can with two suitcases each weighing 20kg, two daypacks and two Longchamp/Coach carry-on bags to the ticket counter.
This was no time for practicing Spanish.
"We are very late for 8 a.m. to Burgos. Can we get tickets for the next train?" I asked.
She looked at our tickets. She looked at the departure board. She asked the guy next to her a question and used the word "tarde" [late]. I thought she was referring to us.
"Rapido!" She said. "Gate 18." Our train was delayed.
Of course Gate 18 was at the end of the terminal, but we were wearing our sneakers and both our suitcases had spinner wheels. The escalator worked, and we could see the train with a flight attendant equivalent standing outside giving us the universal tsk tsk you're late gesture of pointing to his watch.
"Sabemos. Sabemos. Siento mucho," I yelled, waving our paperwork as best I could. [We know. We know. Very sorry.]
We dragged our luggage into the first train car we came to, number 8. The steward looked at our tickets and said "Cinco," pointing ahead. The train started moving. Three cars later, we stowed our backpacks and suitcases, then plopped our butts into seats 5c and 5B. We hugged, and whispered, "Thank you, Jesus."
8:07 a.m. Our first Camino travel mercy and we hadn't taken a single step yet.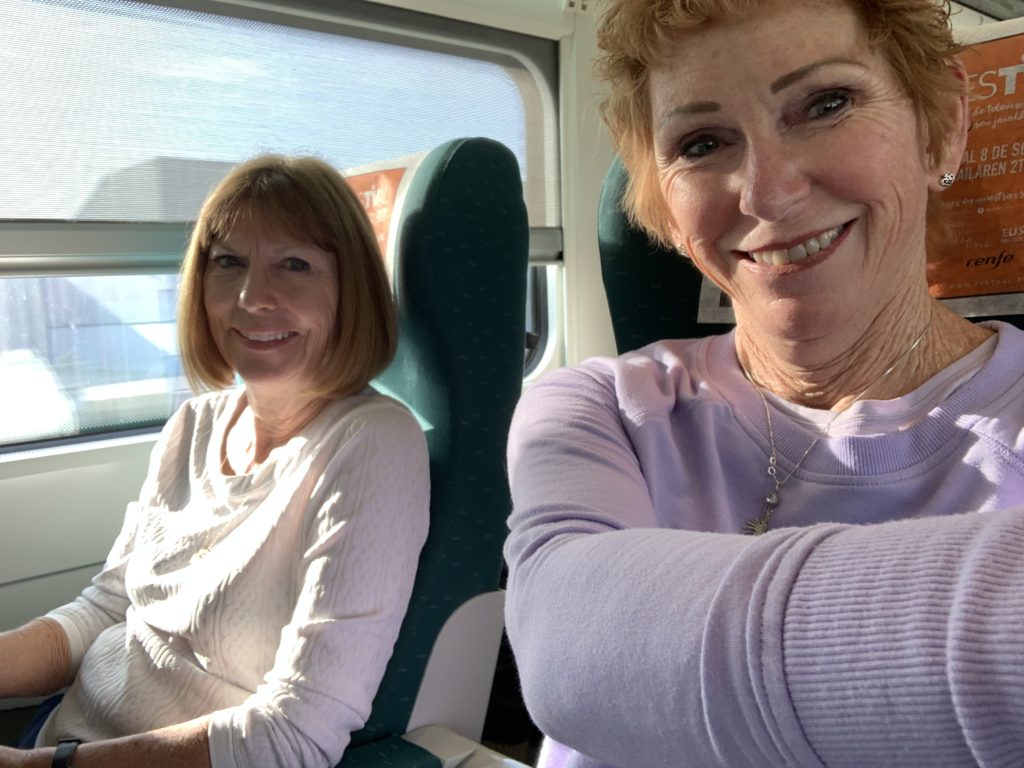 On the Train
We heard English being spoken by the two women seated behind us, and after one look at their footwear I asked, "Are you walking the Camino?"
Yes, it was a mother/daughter duo [Michelle the Younger, Jeanette the Mom] who had walked the St. Jean Pie de Port to Burgos section of the Camino two years ago. Now they were going to walk Burgos to "as far as we get." They had made their own reservations a few days ahead, and were, as I call it, "carrying their lives on the backs."
Donna and I mumbled a bit about using CaminoWays.com to book reservations the whole dang way, not a few nights ahead. And, oh, yeah. They were moving luggage each day as well. Thankfully, they were impressed that we were doing the entire 300-mile stretch from Burgos to Santiago. Or, maybe they were just being polite.
Burgos is Beautiful
The hotel allowed us to check in early, which gave us time to explore the stunning city of Burgos.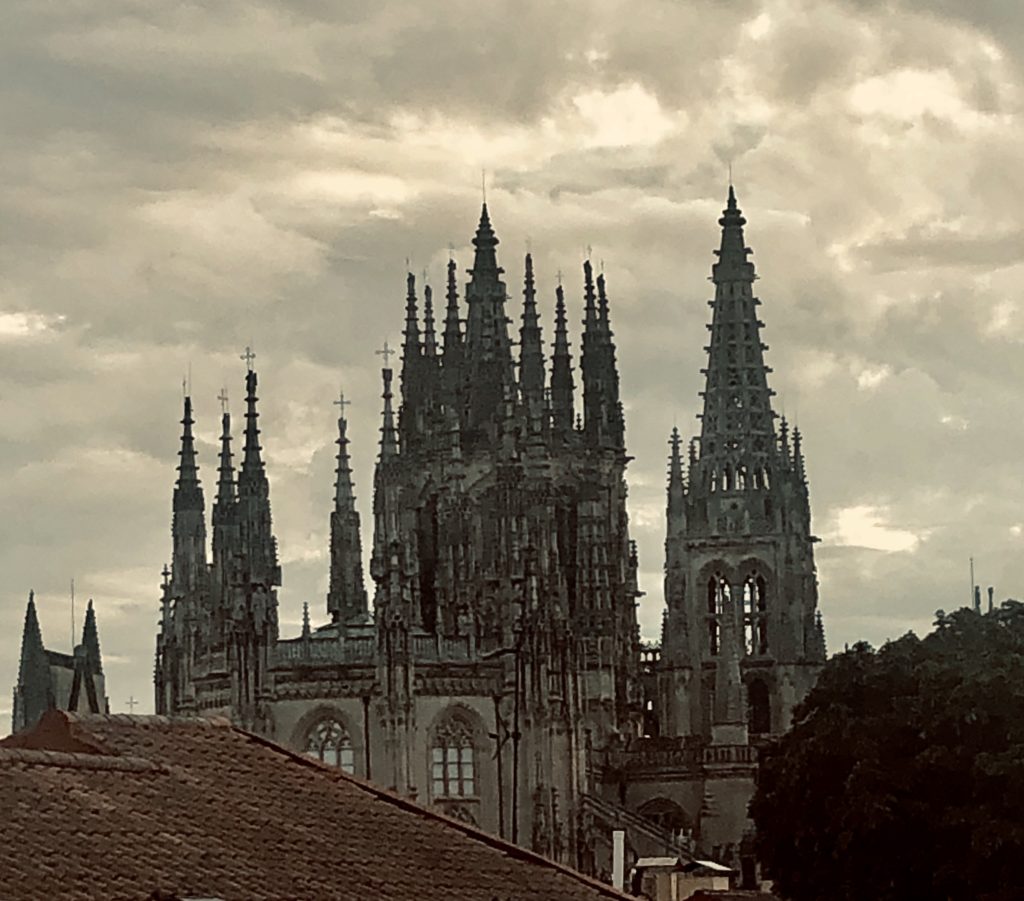 Our first stop was the Cathedral to find out exactly where the Camino starts. The volunteer pulled out a map and said, Easy! (Actually, she said Facil!) Exit the square at St. Mary's arch, cross over the River, turn right and you're on the Camino.
Donna and I decided to "rehearse" that path and took off in our play clothes to find the first yellow arrow that would indicate we were on The Way. Hmmm. We walked through two roundabouts and never saw an arrow, nor a scallop shell. Odd. Usually at any kind of intersection we remembered seeing one of those symbols to point the way. Nada.
We walked back to the hotel and read the walking notes. No wonder. Our hotel was on the Camino. The notes said to follow the street past the Cathedral and then turn left at the appointed street and then cross the river. We headed out again and noticed right away that a bronze scallop shell was imbedded in the highway.
Perfect.
We meandered down a few narrow streets, admired the amazing tree lined sidewalk by the river, bought a bottle of local wine and small bit of Burgos cheese to take back to the room.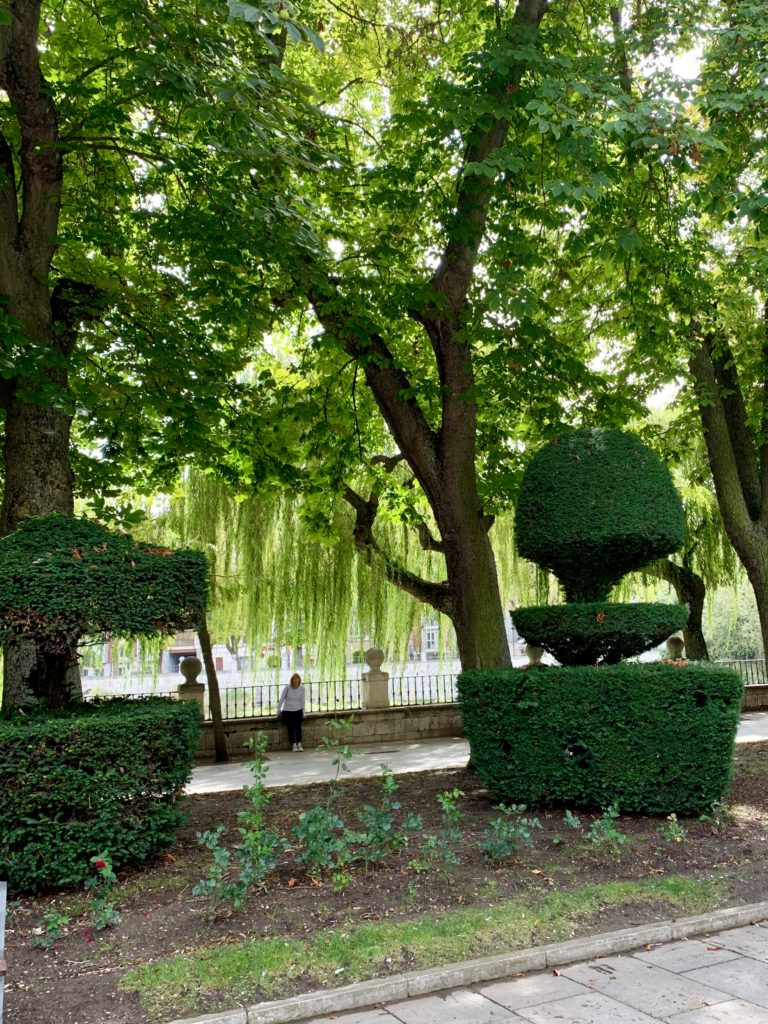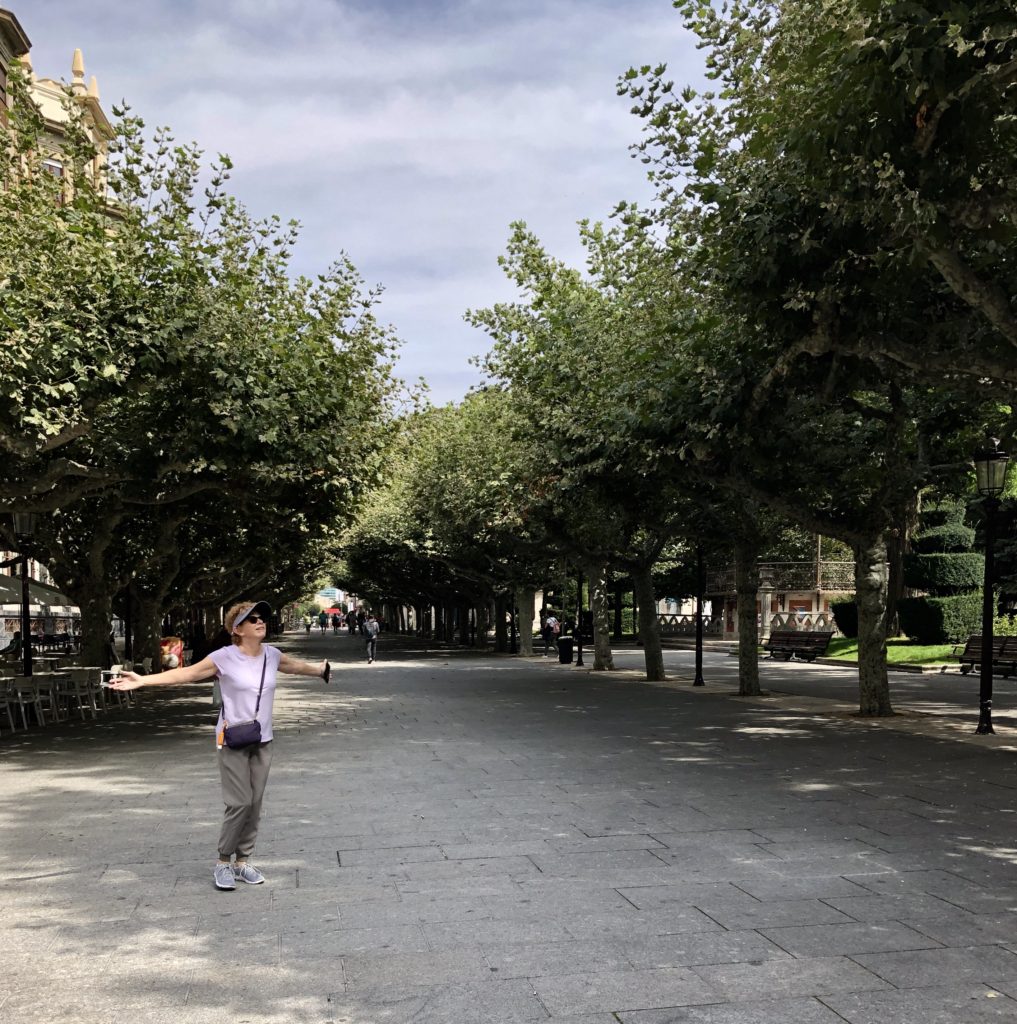 A difficulty we have, perhaps only at the beginning of this journey (?), is that the earliest you can eat dinner in Spain is perhaps 8:30 p.m. Ugh. We are practically slapping each other to stay awake at 6:15 p.m. as I write this. That, or goofing around and appreciating the grandeur of our two-story hotel room.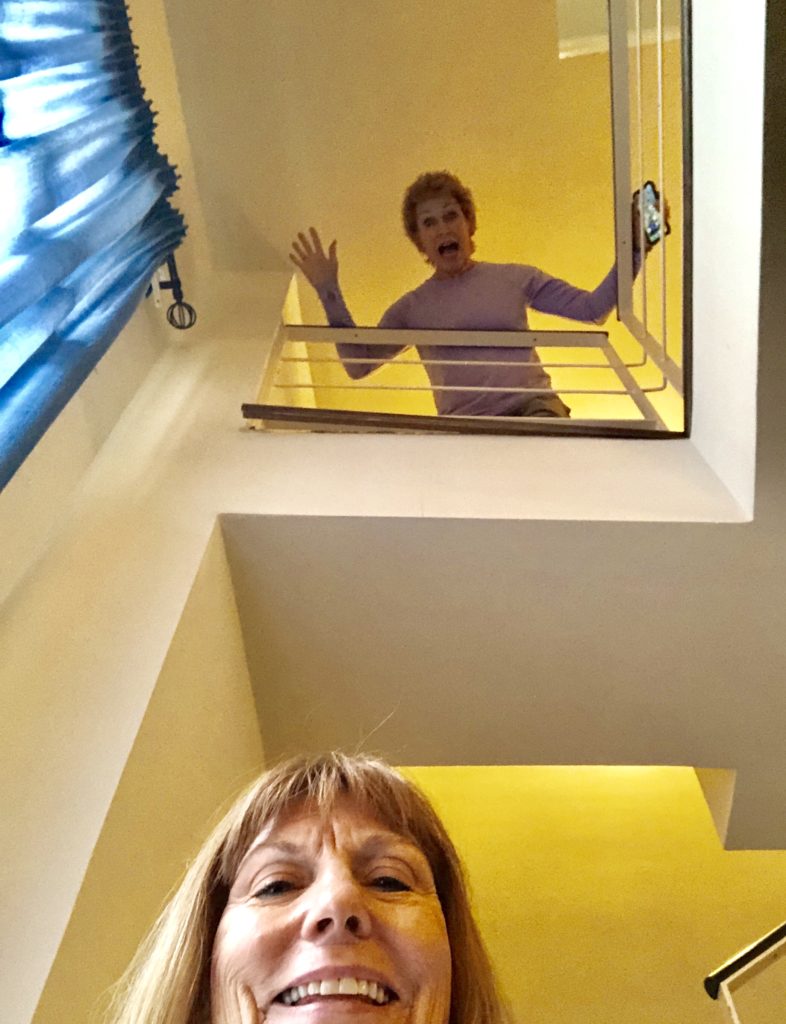 I think it will be better once we get on the trail. We will be in smaller lodging, including B&Bs, family-run cottages and the like. Dinner is included at most, which means we wander in, eat and fall in to bed. Rinse and repeat.
Weather forecast for tomorrow (Tuesday) is rain and low 50's. Happy Birthday to me. And actually, I think it will be a very happy day. I'll only have one thing to do.
Walk.